{SECTION_MENU}
Year 4 - Barn Owl
Cricket Trip
On Wednesday 13th September, Year 4 had the opportunity to attend The Somerset Cricket Foundation Schools' Day at The County Cricket Ground in Taunton.
We watched an exciting game between Western Storm and Central Sparks, met the players and took part in some cricket skills activities.
Some of our girls were even lucky enough to lead the players onto the ground as the guard of honour!
The weather was lovely, and we all agreed that it was a fantastic day!
Owl Visit
Today we had a very special visit from North Somerset Birds of Prey who brought in four owls to share with us.
We got to meet Dotty, the small owl who is one of the smallest owls in the country, as well as Hercules the European Eagle Owl.
We also met Inca the Barn Owl and Cerberus the Tawny Owl. We were amazed to learn that Barn Owls do not have waterproof feathers and that Tawny Owls are the only owls that make the iconic 'Twit-twoo' sound.
We learnt so much about owls and will be using what we have learned as a starting point to research and write our own non-chronological reports. We also experienced excellent presentation skills first hand and used these to help us to present our own owl facts to the class, thinking carefully about our class rules for oracy (speaking and listening).
Y4 Owl Visit (Sept 2023)
Rainforest Collages
Tawny Owl and Barn Owl have created these beautiful A2 collages inspired by the artist Jeannie Baker. The children worked in groups to plan and create their collages using recycled or repurposed materials.
Y4 Art
Cards for the Coronation!
Today the children in Year 4 created cards to send to King Charles and Queen Camilla to congratulate them on their coronation. I think you'll agree they look amazing.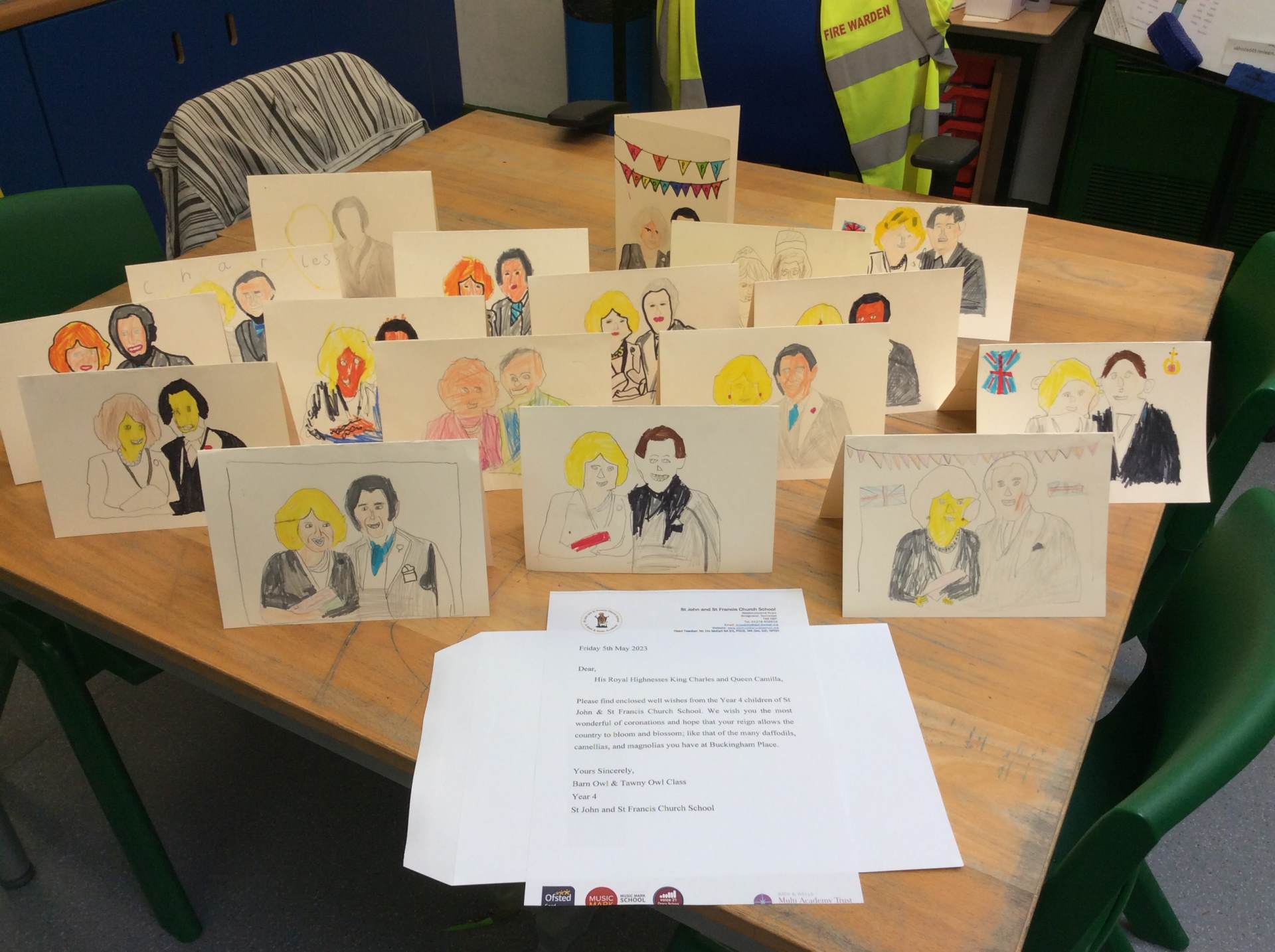 Tudor Henry VIII Cad Character Visit: March 2023
As part of our history learning, Year 4 had a visit from a time traveling Tudor courtier, Jed. This interactive workshop brought the story of Henry VIII and his six wives alive (until they were either divorced, beheaded or died) to the children.
It was noted from Mr Harry Cadwallader that 'I was really impressed with their engagement in the learning and great sense of fun.'
Please see some photographs and videos below of this wonderful experience:
Y4 Tudor Cad Characters - March 2023
World Thinking Day 2023 Year 4 : February 2023
What Is World Thinking Day?
World Thinking Day is a global event where children are encouraged to celebrate international friendship, and speak out and raise awareness for issues facing young women and girls. Each year World Thinking Day has a theme, between 2022 and 2024, the theme is on the Environment and Climate Change.
World Thinking Day is celebrated around the world by 10 million Girl Guides (Brownies)and Girl Scouts in 150 countries. Additionally, some boy-orientated organisations also celebrate this day, as can be seen by our two cubs.